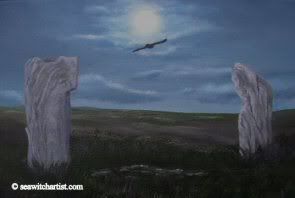 Hunters Moon
Hi all
Most of us will know the Hunters Moon is ordinarily the brightest of the year and nearest to Halloween or Samhain, thats really the name from the Native Americans, in Europe it was once beter known as Blood moon as it was about now that the surplus livestock got culled and salted away for winter.
My painting above was one of those that were done before I got a computer, I didn't envisage it's succss!
It's a top result on google images especially.
It's set in the standing stones of Callanish on the Isle of Lewis, they are older than stonehenge even.